It's unbelievable how Christmas is just days away. The shops have had Christmas music playing on a continuous loop for weeks, I've had my decorations up since the very beginning of the month and I've been stuffing my face with mince pies since November. You really can't escape Christmas no matter where you go.
Being a big enthusiast of the holidays, I thought it'd be appropriate to share my Top 5 festive themed films in the run up to Christmas.
Ranging from classics to ones you should probably watch without the kids, here's my list.
Hope you all have a very Merry Christmas, from my family to yours!
Love Actually (DVD as seen above) is one festive film that I will watch all year round then watch practically everyday until Christmas and I will never get sick of it. It boasts an all-star cast with actors like Hugh Grant, Colin Firth, Emma Thompson and Alan Rickman.
Written and directed by Richard Curtis, the film delves into the different aspects of love which is shown through ten separate stories each involving a range of individuals, many of whom are revealed to be interlinked as their tales progress throughout the weekly countdown to Christmas.
It did the impossible and made me swoon over Hugh Grant, even though I will forever favour Colin Firth, and features what might possibly be
one of my favourite scenes of all time
.
It's light-hearted, packed full of romance and absolutely hilarious. I laughed at Hugh Grant dancing and then proceeding to have the worst luck after getting cockblocked by an octopus
(see left)
right when he and Natalie were about to confess their love. But it all worked out in the end. Naturally.
I cried a lot; when a tiny Thomas Sangster runs past airport security to say hi to his classmate that he's fallen in love with while she is about to leave for America, when Mark (played by Andrew Lincoln) shows up Juliet's (Keira Knightley) door declaring that to him, she is perfect
(see right).
Needless to say, I sobbed like a baby when Jamie (played by Colin Firth) goes to France after learning Portuguese in order to propose to his former housekeeper Aurelia. Then discovering that she has learned English just for him.
It's sappy, but it has its moments of comedy genius. Even if romance isn't your thing and you prefer Batman over Bridget Jones, Love Actually is still perfect festive fun.
Elf
is one of the funniest festive films in existence and it never fails to put me in the Christmas mood, even if I watch it in August.
It follows the journey of a Buddy (played by Will Ferrell) who as a baby accidentally stowed away in Santa's sack when Mr. Claus visited the orphanage to deliver presents and ended up at the North Pole.


Later, as an adult
human who happened to be raised by elves, Santa allows him to go to New York City to find his birth father, Walter Hobbs. Hobbs, on Santa's naughty list for being a heartless jerk, had no idea that Buddy was even born. Buddy, meanwhile, experiences the delights of New York City (and human culture) as only an elf can. When Walter's relationship with Buddy interferes with his job, he is forced to reevaluate his priorities.
It's silly, yet hilarious and this helped by Ferrell's natural portrayal of stupidity and childlike wonder which is perfectly suited to the role of Buddy, a human who thinks he's an elf. Though Elf is primarily aimed at youngsters, there's plenty of playful mischief to appeal to the kid in everyone.
Woven into the story is a thread about the cynicism that has tainted the Christmas spirit. Considering the commercial exploitation, it's hard not be wary sometimes, but Elf's warm heart and impish wit will go some way to convincing you the colour most associated with Christmas is not the green of money, but the green of an oversize elf named Buddy.
A VERY HAROLD AND KUMAR CHRISTMAS
Okay
, this one isn't for everyone. In fact, it's not suitable for little children, so don't show it to them, but it is a perfect Christmas comedy for anyone over a certain age.
Being a big fan of John Cho and being extremely gutted that his latest show for ABC got cancelled, I took to drown my sorrows in my Harold and Kumar boxset.


Six years after busting out of Guantanamo Bay, stoner buddies Harold Lee (John Cho) and Kumar Patel (Kal Penn) cause a festive ruckus by inadvertently burning down Harold's father-in-law's prize Christmas tree.

Harold has lost touch with his buddy Kumar and has turned his life around by ditching the reefers, clambering up the corporate ladder and marrying Maria. Their attempts to get her pregnant on Christmas Eve are interrupted by the arrival of Maria's father Carlos (played by Danny Trejo) and the entire Perez clan carrying a 12-foot Douglas fir tree that the formidable patriarch has been growing for the past eight years.


Fate conspires to reunite the estranged buddies and a spark from Kumar's discarded marijuana joint sets the beloved Christmas tree alight. Determined to impress Carlos, Harold heads into the night in search of a replacement fir with Kumar, buddy Todd (Thomas Lennon), teenager Adrian (Amir Blumenfeld) and Todd's infant daughter in tow.


As midnight approaches, when the Perezs are due to return from Christmas mass, they cross paths with an old acquaintance, actor Neil Patrick Harris (playing himself), who might be able to solve the tree dilemma.
see a clip here from my Instagram
.
Bring out the mince pies and other munchies as the boys pull off another laugh-packed crude cracker with all the surreal trimmings.


And if anyone's stuck on Christmas presents to get me, a cute little WaffleBot wouldn't go amiss.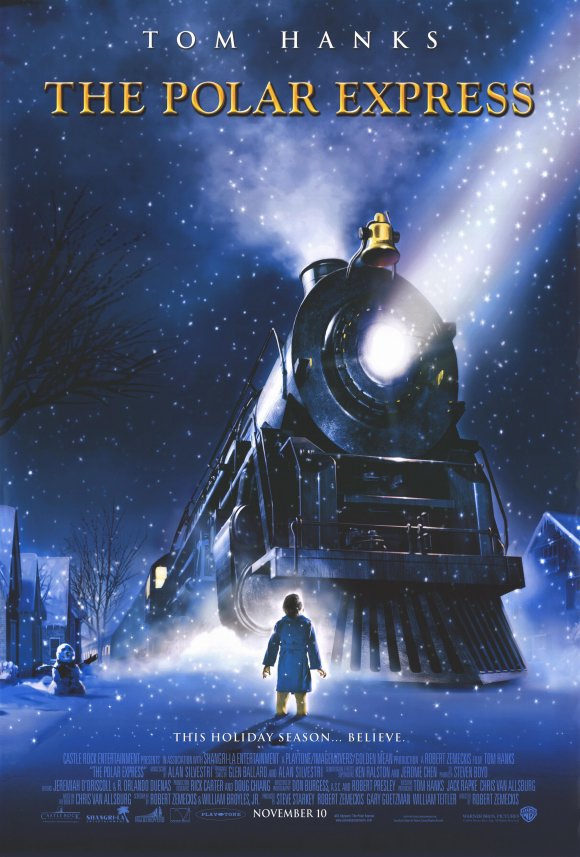 Based on the book of the same name,
The Polar Express
commences on Christmas Eve with a nameless boy (played by Tom Hanks) fidgeting and fighting against sleep. At 8 years of age, the boy seems a little old to be pinning his hopes on Santa. Yet hope he does.
After the boy falls asleep, he wakes to a train pulling up in his front yard.

After a how-do-you-do with the conductor (Mr. Hanks again), the boy boards the train where he meets a number of other children also dressed in their pyjamas. Train rides can make splendid adventures, but not here. Outside of a lovely sequence involving an errant ticket that flies out the train into the beak of a bird, then past a pack of wolves and a shimmering woodland landscape, the passage to the North Pole chugs rather than zooms, as agonisingly long as a childhood car ride to the relatives.
At last, the train arrives, Santa imparts wisdom, the boy learns a lesson and it all comes to a cozy finish meant to put a lump in your throat.
I loved the concept of this magical train that'll take you to the North Pole to see Santa so it was definitely intriguing. I thought it was really beautifully done, with a musical number from the elves it'll definitely put you in the Christmas spirit!
This film is a little older than the majority of the films on this list, yet it seems like so long ago that I watched it for this time. Now, it's not that I don't recommend The Santa Clause 1 & 2 because I heartily do, this film in the franchise just resonated with me a little bit more.
The third and final installment is just wonderful. Mrs. Clause is adjusting well to life at the North Pole. That is, until Santa (played by Tim Allen) decides to bring Mrs. Clause's parents up for Christmas. Meanwhile, Jack Frost is causing mischief in the factory. He eventually tricks Santa into wishing he'd never been Santa at all. From there Santa (who technically would be Scott Calvin because he never got to be Santa) has to fight Jack for his rightful place as Santa.


This third film made me wish there were even more after it. Like maybe Scott retires and turns the business over to Charlie?
It's pure festive fun, at the time of release I probably would've been within some area of the age demographic but not necessarily so. It's not there to be taken seriously which is the same with the whole franchise. The films are aimed at little children so naturally it's slow and the plot may suffer ever-so-slightly with this movie.

However, even now I can say that The Santa Clause 3 packed with fun, action and Christmas cheer as is the whole series.
Hope you have a great Christmas!
Until next time,