I absolutely loved this play when I studied it for my English GCSE what seems like a lifetime ago, but was actually, in fact, last year. Overjoyed by the news that the BBC are making an adaptation for
An Inspector Calls
which will be aired later this year, I decided to share my dream cast for the play.
My dream pick for hard-headed businessman Mr. Arthur Birling is
Dominic Cooper.
He did a terrific job in
Captain America: The First Avenger
and from what I've seen of
Agent Carter
as the rather smug Howard Stark.
Keeping Howard's trademark mustache, I would love to see him play this portentous patriarchal character.
I've never seen
Downton Abbey
nor do I know many older actresses. So, my ideal Sybil would be someone like
Jessica Chastain
.
I loved Jessica in
Zero Dark Thirty
and after recently watching her in the terrifyingly brilliant trailer for Guillermo Del Toro's horror
Crimson Peak,
I've decided that Jessica fits the image I had of Sybil in my head when she sports raven hair.
I'd love to see her play the cold-hearted and cruel Sybil.
Although, I will add that the BBC's choice of Miranda Richardson is spot on.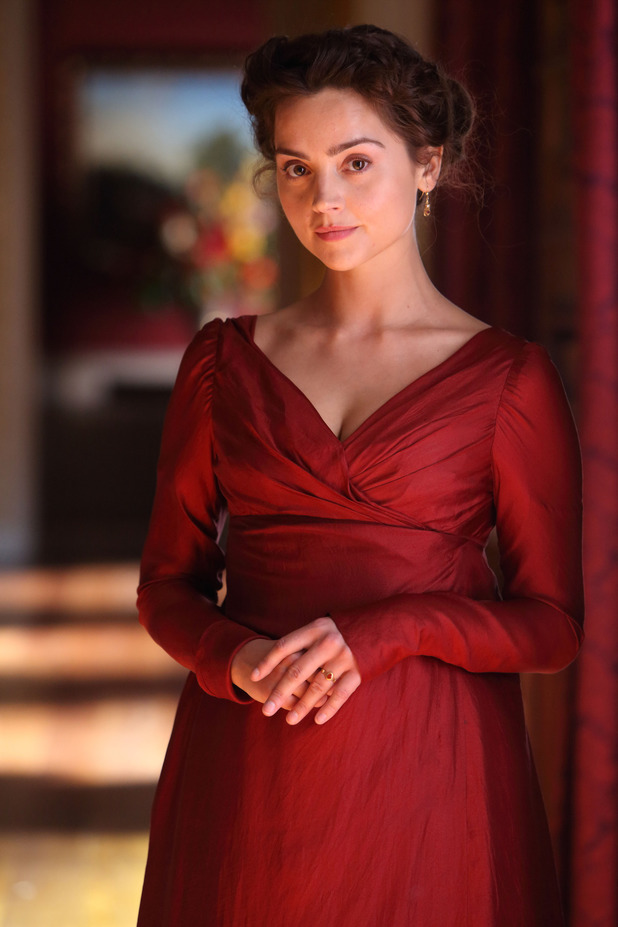 While I'm not overly fond of her on
Doctor Who,
Jenna Coleman
did a great job as Lydia Wickham in
Death Comes to Pemberley.
I think she'd be perfect for the part. I could totally see Jenna playing the pretty and spoilt Sheila.
Sheila was definitely one of my favourite characters in An Inspector Calls, the suicide of Eva Smith seemed to open her eye
s to reality and make her more sympathetic, unlike the rest of her family.
At the end of the play she emerges much wiser having her social conscience awakened.
Jack Lowden
is who I pictured as Eric Birling. He's set to star in BBC's adaptation of Tolstoy's
War and Peace
as Nikolai Rostov. Also, look at him!
Eric is shown as a rebellious, full of himself, 'jack the lad' character who is hiding a nasty habit. However, much like his sister Sheila, Eric's true personality is shown at the end of the play. He seems to have learned his lesson and feels guilty for his part in Eva Smith's death.
Is
Tom Hiddleston
my choice actor for everything, I hear you ask? Yes. Yes, he is. And no, I will never stop fancasting him in possibly everything under the sun.
Hiddleston's absolutely charming and I'd just love to see him play the wealthy son of Arthur Birling's business competitor and also Sheila's husband-to-be.
Gerald is also revealed to have played a part in driving poor Eva Smith to suicide and it's one that puts his relationship with Sheila on the rocks. While Gerald is not blamed as heavily as the others for his actions, being commended for his honesty about his affair, he is quite a smug character who is more adamant in proving the Inspector to be a fake rather than learning from his own mistakes.
Was he a real Inspector? Or was he a 'ghoul' like his name suggests?
Either way
Colin Firth
is my pick for the mysterious and inquisitive Inspector Goole.
Inspector Goole interrogates the Birling family and Gerald Croft exposing them all as having a responsibility in the suicide of Eva Smith. His purpose is to warn the family in advance and encourage them to accept responsibility and repent for their behaviour much like The Ghost of Christmas Yet to Come in Dickens'
A Christmas Carol.
And finally, to play the tragic, working class Eva in potential flashback scenes, I would choose another
Fancast Friday
favourite, the stunning
Gemma Arterton
.
She was absolutely flawless in
Tess of the D'Urbervilles
and is the perfect choice to play this innocent character.
After losing two jobs at the hands of two Birlings, Eva appears to have turned to prostitution working in the Palace Bar, a favourite haunt of men seeking ladies of the night. It is here that Eva takes up the alias of Daisy Renton.
Through the reports from other characters, Eva is described as "pretty" with soft brown hair and big dark eyes, and it is explained that she has no family and must work for her living. Her beauty is commented on by all the characters, though it appears to work against her. Her beauty attracts both Gerald and Eric to her, with Eric sexually exploiting her.
I can tell you that
An Inspector Calls
by J.B. Priestley is a fantastic play and you should
definitely have a look at it
if you haven't already. It's one of my favourite texts that I've studied in English Literature so far.
If you've read it or seen it live on stage, I'd love to hear who your dream cast for the Birlings, Gerald, Goole and Eva are.
Come back next Friday for more fancasting where I'll be looking at which actors I'd like to play Hannah and Clay in an adaptation of Jay Asher's Thirteen Reasons Why.
Hope you a have a great day!
Until next time,
Samantha
GoodReads | Twitter | Tumblr | Instagram