Pre-Christmas, I made a promise to myself to try and pick up more classical literature. After a quick trip to W.H. Smith where I splurged on many classic books - one of which you can see I'll be reviewing today - I randomly decided that I wanted to read as many
Penguin Classics
branded books as I could. However, upon researching for more information about my spontaneous idea I realised there are
a TON more Penguin Classics
than I stupidly had anticipated and
a complete set would put me $16,400 out of pocket
so I'll just stick to whatever the bookstore has available.
Technically this isn't my first
Penguin Classics
book that I've read or reviewed, but it is the first that is featured on my blog. After seeing the Ben Barnes film a few years ago and after not thinking much of it, I decided it was finally time to pick up Oscar Wilde's
The Picture of Dorian Gray
because, after all, the book itself is usually better than it's film counterpart.
Enthralled by his own exquisite portrait, Dorian Gray sells his soul in exchange for eternal youth and beauty. Under the influence of Lord Henry Wotton, he is drawn into a corrupt double life, where he is able to indulge his desires while remaining a gentleman in the eyes of polite society. Only Dorian's picture bears the traces of his decadence.
A knowing account of a secret life and an analysis of the darker side of late Victorian society.
The Picture of Dorian Gray
offers a disturbing portrait of an individual coming face to face with the reality of his soul.
Oscar Wilde's
The Picture of Dorian Gray
was a succès de scandale. Early readers were shocked by its hints at unspeakable sins and the book was later used as evidence against Wilde at the Old Bailey in 1895.
"You will always be fond me. I represent to you all the sins you never had the courage to commit"
The Picture of Dorian Gray
is an insightful and intriguing novel. Wilde's talent and wit is undeniable and the obsession with image that is addressed in
The Picture of Dorian Gray
is still relevant to today's society making it a thought-provoking read.
However, it wasn't one of those books that I could just sit and read for hours unable to put it down. When I could feel my attention waning, I had to abandon it which was a real shame. I think the main issue for me was the long descriptions and seemingly never ending musings from Dorian and his high society friends. Don't get me wrong, when there was an actual scene playing out like Dorian breaking Sybil's heart or Basil going to confront his friend which leads to a disastrous ending, I was fixated and very much engrossed in finding out what would happen next. I think Wilde just lost my interest a little with all the large chunks filling in the action, but I did wade through them and find some interesting quotes and tidbits that I really liked and felt summed up a lot of the issues raised rather nicely.
The Picture of Dorian Gray
is a somewhat sinister story filled with complex characters. Dorian himself is rather tricky as he isn't a protagonist that we can really, truly like or at the very least find many redeemable qualities in. I hated Dorian and that's not a bad thing as I don't think he was written to be liked. On paper, he is a dream with his good looks and charm, but the reality is that he is unstable and impulsive. One minute he is besotted with Sybil Vane, a young actress, the next he is enraged and evil leaving her to take her life. Dorian is easily swayed by his newest friend Lord Henry who plants seeds of ideas regarding beauty and youth into the young lad's head. Henry's influence prompts Dorian's declaration that he would rather stay youthful while the portrait that Basil has drawn of him ages instead. It's not so much the "selling of the soul" element that is described on the blurb of the book, but rather he says it and he gets it. It's a 'be careful what you wish for' moment.
Dorian may remain beautiful on the outside, but he is changing. His portrait may bear the physical appearance of Dorian's aging and his wicked deeds, but Dorian's actions equally become as sinister as the now unrecognisable portrait of the lad looks.
I'm happy that I did give
The Picture of Dorian Gray
a read because it is a fascinating tale that explores vanity, identity and the search to stay youthful. Obviously, it's a very famous classic and it's evident exactly why it is when you begin to read it. Despite this, I don't think it's a book that I will ever come back to and re-read any time soon. It was a fun experience to read and if anyone wants clarification, it was definitely better than the movie. Although, Ben Barnes isn't too bad as Dorian.
Have a great day! Happy reading!
Until next time,
Samantha
Happy New Year! I hope you've all recovered from the festivities and that 2016 has gotten off to a good start for you.
2015 was a pretty eventful year for this bookworm both in real life and the fictional world of novels. Even with the hectic schedule life presented me, I managed to find the time to indulge myself in 50 books which means that I surpassed my GoodReads Reading Challenge that I set myself at the beginning of the year by 20 books!! Woo!!
I did share this on Twitter, but in case you missed it you can view my Year In Books
here
which was compiled by the lovely folks at GoodReads complete with bookish stats. Did you know I read over 17,000 pages in 2015?
Last year saw me meet a ton of new characters to root for and cry over and while it was excruciatingly hard to narrow it down, here are the top five books that were released in 2015 and that I absolutely adored.
5. WE ALL LOOKED UP
by Tommy Wallach
When the ARC for this book arrived in my e-mail, I had no idea what to expect. The premise of this unlikely gang of friends coming together at the end of the world really intrigued me, but nothing could prepare me for how fantastic
We All Looked Up
was. To me it was like
Skins
meets the apocalypse. I was instantly blown away by Wallach's writing. As we count down to the end of the world, we visit the backstories of each character. Although the ending was tragic, the book, as a whole was just simply was beautiful.
4. A GAME FOR ALL THE FAMILY
by Sophie Hannah
A fairly recent read of mine that I completed no more than a few months ago, but it made such an impact that I had to include it.
After leaving London and settling in a new place with a new home, Justine is plagued by an anonymous caller who starts threatening her and her family. In addition to this, Justine finds her daughter writing about a bunch of sinister murders that took place in the family's new home even though there is no record of such people ever existing. This book had me on edge, it messed with my mind to the point where I had to battle with myself to put it down. Thanks Bookbrigdr and Sophie Hannah for taking me on this wild and gripping mystery!
3. THESE SHALLOW GRAVES
by Jennifer Donnelly
Another book that I finished not too long ago, but again I just fell in love with this story and these characters.
Aristocrat and budding journalist, Josephine Monfort is set to find out what really happened to her father the night he died. The papers and her family insist it was suicide, but Jo thinks otherwise. Cue handsome and brash reporter Eddie Gallagher to assist her on her quest for the truth!
It was such a fun and action-packed novel to read. I think I could go on forever about how much I loved the historical setting, the will-they-won't-they romance and girls just being plain badass.
2. HOW I LOST YOU
by Jenny Blackhurst
I could not put this one down at all. In fact I think
How I Lost You
was the first time I immediately reviewed a book straight after finishing it. In hindsight it wasn't the best idea as I could barely process my thoughts and just rambled about how incredible Jenny Blackhurst's novel was. That being said, it was
totally incredible
. I didn't know what to expect and I was more than pleasantly surprised with this thrilling mystery that follows Susan Webster, a woman accused of killing her son.
After serving time for a crime that she was brainwashed into believing she had committed, Susan is given a new identity, a new home and a new life. However, when an envelope shows up containing a photograph of a toddler with her son's name Susan begins to question everything about the night she allegedly killed her baby.
1. THE LOST ART OF KEEPING SECRETS
by Eva Rice
So technically this wasn't originally published in 2015, but a special edition was released for the 10th anniversary with an exclusive short story and I was fortunate enough to be gifted a signed copy by the Headline team at Bookbridgr. If you've read my complete review for this novel you will know how besotted I am with this book. Everything about it is flawless. I am deadly certain that these characters and this story will stay with me for a lifetime.
Set in the 1950s in an England that is recovering from the Second World War, it tells the tale of Penelope Wallace and her eccentric family at the start of the era of rock and roll. Her world may be crumbling (quite literally as her ancestral home is is need a visit from the
DIY SOS
team) but Penelope meets Charlotte who instantly becomes her new best friend and introduces her to Harry, her sardonic cousin.
The Lost Art of Keeping Secrets
is such a charming and captivating novel with an unforgettable array of characters, a slice of humour and a few tears - it was always going to be number one on my list!
Picking a favourite book is liking a picking a favourite type of chocolate to me, it's impossible! So I always get increasingly stressed when making 'Top Five' lists because I hate leaving some of my other favourites out. So these are three books that were strong contenders for the top five places and ones that I recommend you pick up as well!
HONOURABLE MENTION #1:
CRASH AND BURN
by Lisa Gardner
Before
Crash and Burn
found its way through the Kilford residence letter box, I hadn't read many crime investigation thrillers.
This novel really did change the game and opened my eyes to a whole new genre.
When Nicole Frank survives a car accident that should have killed her, she wakes up remembering very little except for one thing. Vero.
Nicky's husband insists that she suffers from a rare brain injury and what she says shouldn't be trusted. However, as Detective Wyatt begins to dig deeper into Nicole Frank he discovers that this isn't the first close accident that Nicky has encountered. In fact, it looks like someone wants her dead.
Crash and Burn
is such a shocking and clever novel. Every time I thought I knew what was going on, Gardner would introduce another curve-ball. Not even Mystic Meg could predict this ending!
HONOURABLE MENTION #2:
GIRLS ON TOUR
by Nicola Doherty
Most of my top five are dark psychological thrillers (with the exception of
Lost Art of Keeping Secrets
) full of tension and death, but they do feature the odd occasional romance. However, I wasn't playing Sherlock Holmes all 2015 with a bunch of crime thrillers like my list would have you believe. There's no way I could've gone a year without my chick lit fix!
I was going through an exceptionally stressful and difficult time when I received this book and
Girls on Tour
was exactly the remedy I needed. Packed full of laughs, friendship and holiday romances Nicola Doherty's five novellas have been put together in one book and follows this group of globe-trotting girls on their hilarious capers abroad. The perfect book for a rainy day when you're feeling miserable, but it may induce a case of the green-eyed monster if you haven't been on a (well-deserved) break away in awhile!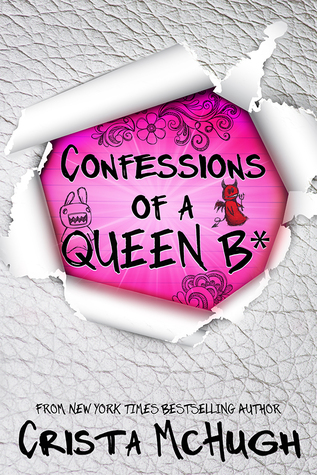 HONOURABLE MENTION #3:
CONFESSIONS OF A QUEEN B*
by Crista McHugh
I have a never ending list of books I want to read in 2016 and the sequel to this book
is one of them. It was such a fun, refreshing read because even though it's a Young Adult book it didn't feature any supernatural creatures causing trouble in capital cities and the romance wasn't cliched, nor did it overplay on the idea of teenage love.
It may have ended with a cliffhanger, but I was hooked with
Confessions of A Queen B*
's witty humour and its strong, independent lead in Alexis who is viewed by her peers as the bitch of the school.
She's really not that bad, she's more like a high school vigilante helping those who are less popular get back at their bullies by exposing their secrets. When an X-rated video from the girl's locker room begins circulating around the school Alexis has to swallow her pride and team up with the star quarterback, Brett, to take down the culprit. Did I also mention they have to take care of a robot baby?
Thank you to everyone who has followed my blog, my Twitter feed and sent me lovely Tumblr messages throughout 2015. You truly made it a year to remember. Obviously thank you to the publishers and authors who have been kind enough to provide me with new and exciting releases to help keep this blog going and to make this post possible. I look forward to reading and reviewing more this year!
Once again, you can view my 2015 In Books
here on GoodReads.
Feel free to share your favourite books that you read in 2015 with me or link me to your Year In Books page!