I've been slacking on book related content and for that I heartily apologise. Between work trips that were at least literature related in some capacity (I promise I've not just been sipping sangrias by the shore), writer's retreats and catching up with pals back in the borough, actually reviewing books has definitely been on the back-burner. However, nothing quite beats coming home to a pile of fresh books waiting to be read.
While I don my comfiest set of pyjamas and get to work, I thought I'd share one of my favourite reads from my degree so far. Like the great John Mulaney, I, too, am an English major. Why? Because I love 19th century broody Byronic heroes more than I do the sweet, sweet prospect of being employed. Today's book may lack a Rochester or Heathcliff, but I assure you that it's just as engrossing.
Read as part of my Critical Issues studies, and the subject of many an essay on gender roles which has essentially become my speciality in academia, I slowly fell in love with Virginia Woolf's To the Lighthouse.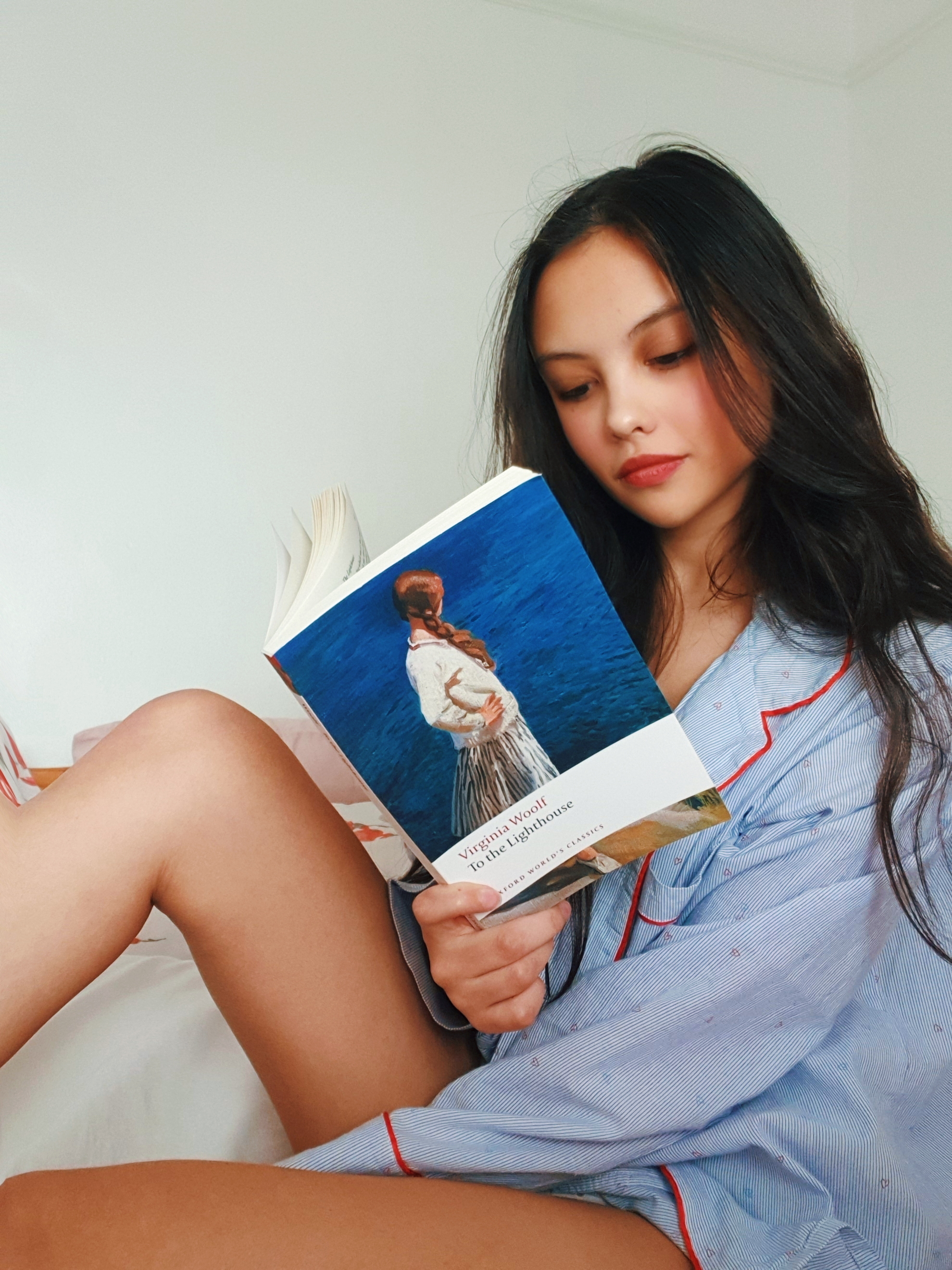 Inspired by the lost bliss of her childhood summers in Cornwall, Virginia Woolf produced one of the masterworks of English literature in To the Lighthouse.
It concerns the Ramsay family and their summer guests on the Isle of Skye before and after the First World War. As children play and adults paint, talk, muse and explore, relationships shift and mutate.

A captivating fusion of elegy, autobiography, sociopolitical critique and visionary thrust, it is the most accomplished of all Woolf's novels. On completing it, she thought she had exorcised the ghosts of her imposing parents, but she had also brought form to a book every bit as vivid and intense as the work of Lily Briscoe, the indomitable artist at the centre of the novel.
WHAT IS THE MEANING OF LIFE? THAT WAS ALL- A SIMPLE QUESTION; ONE THAT TENDED TO CLOSE IN ON ONE WITH YEARS, THE GREAT REVELATION HAD NEVER COME. THE GREAT REVELATION PERHAPS NEVER DID COME. INSTEAD, THERE WERE LITTLE DAILY MIRACLES, ILLUMINATIONS, MATCHES STRUCK UNEXPECTEDLY IN THE DARK; HERE WAS ONE.
Initially, I'll admit that I found To the Lighthouse quite daunting. Woolf's writing style can be challenging, a constant stream-of-consciousness that results in lengthy descriptions where you're not entirely sure who is leading the point-of-view. It takes a while to adjust to, but once you're in the swing of things it flows so beautifully, reading almost like poetry.
To the Lighthouse is undoubtedly one of the most spectacular pieces of literature I've read for academic purposes. I'm still in awe at how Woolf managed to pull off the grandiose task of bouncing back and forth between philosophy, psychology and the fictionalised story so effortlessly, interweaving narrative and personal reflection.
It takes on a life of its own with Woolf's vivid writing, magnifying the fixations and preoccupations of each individual character. The sights are blindingly bright, the sounds are a cacophony, and the emotions the characters feel are so intense, they are almost about to burst at the seams whether it be from hatred or enthralling love. It's a melding together of past, present and future in a blur of colour and meaning. It's an acknowledgement of both the pain and joy that comes as part of our existence on this ugly and beautiful world of ours.
It's a book that requires your devout attention. It is not one of those easy reads to pass the time, simply allowing you to escape reality and cease your mental chatter for a moment or two. It's a work of art and Woolf demands it be treated as such. To the Lighthouse is the literary equivalent, or the closest you'll get, to peering into someone else's mind and sifting through their loves and losses.
The ghosts of her parents tortured Virginia Woolf for many years until finally, she reincarnated her parents in the forms of Mr. and Mrs. Ramsay in this very novel and she was free of them. From the opening, Woolf shows us the dichotomy between male and female. Mr and Mrs Ramsay. He is cold, testing, rational. She is gentle, doting and beautiful. They are the yin to the other's yang. Two halves of one whole. Where one is weak, the other is strong.
Then there's Lily Briscoe, the perfect counterpoint to Mrs Ramsay. Woolf shows her fighting for women's independence, exploring issues of feminism and aesthetic. To Lily, art promises more than marriage. She refuses to succumb to male demands, effective renouncing her nature for art itself.
I found myself unable to put it down, each page promises a new thought or topic to ponder over. One can't help but immerse themselves in Woolf's writing, it's intoxicating.
Reading To the Lighthouse is such a unique experience and without wanting to spoil too much, I will just end it here by saying that every chapter, every sentence, every word is a work of art. It's not an easy read by any means, but I think it's the books that force us to go beyond its pages and think that are the best.
Before I forget, I also wholeheartedly recommend this random Virginia Woolf inspired playlist that I stumbled upon on Spotify when looking for something to listen to while writing papers and studying for exams that wasn't Blackpink and wouldn't distract me. It's mostly a bunch of instrumentals, but I think it captures the beauty and tone of Woolf's work really well! Plus, it's super relaxing.
RATING
★★★★★