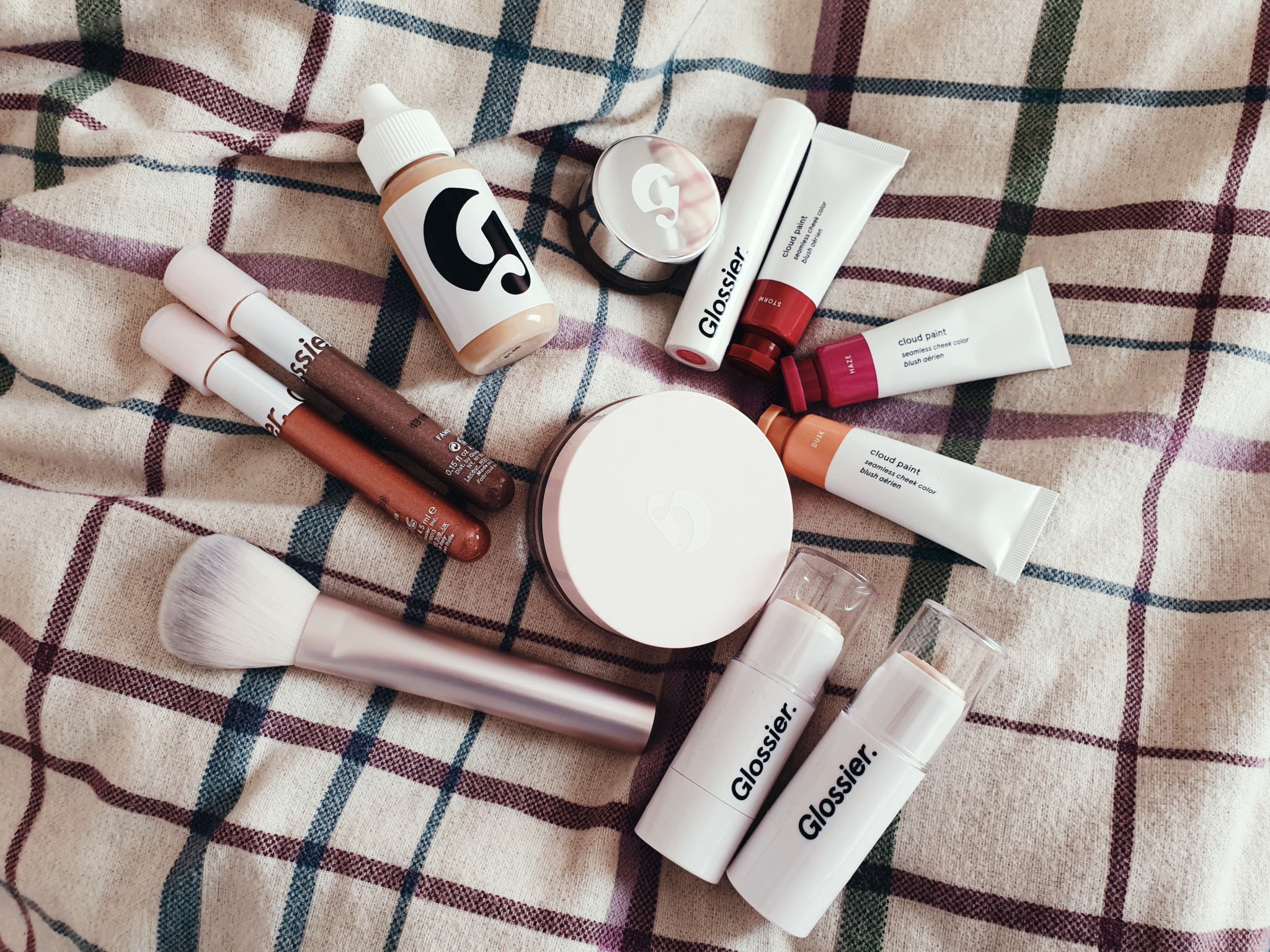 Glossier, the beauty brand founded by Emily Weiss of beauty blog Into The Gloss has legions of devout fans all over social media, but what products truly live up to the hype instigated by influencers everywhere?
I want to start this by saying that I'm hardly a make-up aficionado. In fact, I've been using the same foundation, eyeliner, highlighter and lipstick brands since my teens. Being a fan of the minimal make-up look, I was instantly intrigued by Glossier and proceeded to do some exploring. I've given the brand an overall glowing review in this blog post, but after using it for a few more weeks, I decided it was time to get into the nitty-gritty about what Glossier products were really worth the cold, hard cash.
There were a few hits and misses in my Glossier journey, but as with any beauty product, the results will hugely depend on your skin type and personal preferences. Just to preface: I have combination skin and suffer from the occasional bout of eczema on my eyelids. Therefore, explaining why I shied away from testing out their skincare range because if it ain't broken… So, I've just stuck to the basic must-haves of make-up.
FACE

This product was a HUGE miss for me. I'd heard all the pre-warnings and even mentioned in a previous post that Glossier's products were designed with that barely there make-up look in mind. However, I don't know if it was an issue with the shade being too closely matched, but I found the Perfecting Skin Tint was just way too sheer and just wasn't worth it as it looked like I hadn't even applied anything at all.
For those who suffer with problems like acne, large pores and rosacea, this product just isn't the one as you will get next to no coverage which I understand is the point, but it feels like a gigantic waste for £20 on a tiny bottle that doesn't do much. It's also very oily which doesn't do wonders for my already shiny complexion.
This tiny round circle does all the work that the Perfecting Skin Tint doesn't. It's, again, quite an oily product, but can easily be mattified by any powder. I use this religiously with my regular foundation to cover my lifelong dark circles and any redness. Some days, when I'm just nipping out to the shops, I'll just use the Stretch Concealer alone with no need for any foundation as it covers up any blemishes or imperfections incredibly well – a new permanent fixture to my make-up bag!
Wowder Duo Wowder Finishing Powder in G8-G10 and Wowder Brush, £30
Thank you, next! Maybe it's because Glossier's other face products are slicker than oil spill, but the Wowder was so intensely mattifying that my oily skin just rebelled. The Wowder comes as a loose powder with a trampoline dispenser which I found extremely helpful to ensure that I wasn't applying too much, but to be honest, the brush is quite useless when it comes to this product as it's very flat. I did like how the Wowder didn't make my face feel cakey. However, it seemed to irritate my skin and cause a few spots to crop up outside of my T-zone which is how I know when something's wrong. It's been relegated to the back of the draw for the foreseeable future.
For years I'd been devout to my Bleach London highlighter in Berwick Street Floor (because who doesn't love being compared to a sparkly Twilight vampire every time they leave the house), but I think Glossier might have managed to convert me. The Haloscope is entirely different from what I'm used to. Instead of being a powder-based highlighter, it's a creamy stick formulation that you essentially glide on. I don't know whether it's because I'm getting too old for glitter, but I really love the pearlescent glow that Haloscope gives and I'm super intrigued to try the other shades Moonstone, which gives you an opalescent glow, and Topaz, which promises a more sun-kissed, bronzer vibe, and seeing how they differ and if they're as good as Quartz.
Cloud Paint  in Haze, Storm, Puff and Dusk, £15 each
Up until recently, I'd never use blusher. My general embarrassing self and lack of exercise prowess meant that just opening my mouth or walking up the stairs would ensure an adequate reddening of my cheeks. I discovered in my early teens that matte blush tended to trigger my eczema, so I vowed to stay away from blusher since then because well, I never believed I had a real need for it. Until now.
Glossier's Cloud Paint has completely revolutionised my make-up routine – they have converted me to the ways of crimson cheeks! While I find the bottles absolutely adorable, they are a little fiddly. I can often end up pushing out too much product with the slightest squeeze, but maybe I'm heavy handed!
I'd been previously using Bleach London's Contor-Nuity in Bones 5, but I've since done away with it after discovering Glossier. I use Dusk as a subtitute for contour, applying it to my cheekbones, chin and top of my massive forehead. Then, I alternate between the other different shades. Puff is a light pink that blends in quite nicely for a subtle blush for more casual occasions. Whereas, I like to use Haze and Storm, either separately or sometimes together, for events and outings where I'm dressed to impress.
EYES
Lidstar in Cub and Fawn, £15 each
I must start this by saying that I'm not one for eye make-up. Again, my eyelids are really sensitive and easily prone to bad eczema breakouts. When the weather changes, the skin on my lids will become really swollen and flaky and I need to use strong hydrocortisone cream in order to manage to flare-ups.
So, for this reason and a fateful incident in 2013 where my eyelid took on the form of golfball after using a harsh, cheap liquid eyeliner, I've fully sworn to keep my eyes bare. Therefore, my regular eye make-up routine consists of one item and one item only: Rimmel ScandalEyes Waterproof Kohl eyeliner.
Lidstar, unlike the Cloud Paints, unfortunately, wasn't an exception to this. Unlike conventional eyeshadow, Lidstar shadows are a creamy pearlescent liquid. Something about liquid eyeshadow suggests that it should be a quick, simple product that is easy to apply. That isn't the case, and I found it took a few attempts to get it looking adequate.
Also, maybe it's due to my oily skin type, but I found the formula just didn't work for me. They're sheer, for sure, but after an hour or so, Cub looked like it had vanished completely. On the other hand, Fawn did hold onto its color a little longer so I think it largely depends on which Lidstar shade you opt for. From what I've read, some shades are more opaque than others. However, they did cause my eyelids to become a tad irritated. Not full on swollen, but there was a scarlet hue as if I'd been rubbing at them so I think I'll give Lidstar a pass in future Glossier hauls.

Blessed with is-it-brown-is-it-black (it's dark brown) locks, I've been fortunate enough to not really have to worry about my brows. Usually, in my day to day, I just leave them as they are. If I have somewhere important to be where I want to make an impression, maybe I'll take an old kohl eyeliner in black or brown and just lightly fill in any sparse spaces. Like all teens back in the early 2010s, I, too, plucked my poor brows to death am still watching them recover from the cringeworthy damage as best as they can.
Glossier's Boy Brow works really well. I chose the brown shade as it was my first time using any proper brow product. I didn't want to make the mistake of overapplying and not being able to fix it because the shade was overbearing. If you do end applying too much to certain spots, you can simply take a finger and blend it in seamlessly.
However, because I'm someone who is low maintenance when it comes to her brows, it's something I would only use on a rare occasion. For someone who's brows are the be all and end all to them, I could definitely see it being worth every penny.
LIPS
Generation G in Like, Jam and Crush, £14 each
While nothing will ever personally beat Burberry's line of Lip Velvet and Kisses lipsticks, Glossier's Generation G range are the perfect, slightly cheaper alternative for casual everyday use.
Much like with Burberry lipstick, Glossier's Generation G apply matte and sheer. All you need to do is layer it until the colour is as bold as you want. Instead of appearing like you've lathered on lipstick, Generation G almost gives more a lip stain look. They do need constant re-application, but I feel they are a nice alternative to regular lippy where I'm constantly worrying about it transferring or smudging.
Like is a light, cool pink that, on my lips, offered a little shine and gave off more of a subtle chapstick vibe. Jam, at its fullest, is a deep berry and tends to be my go-to along with Crush, which is a raspberry pink. I did used to own Zip, a poppy red that I absolutely adored, but I think I left it in Tinder Boy's old house and I haven't mustered the energy to order a replacement as of yet. Tragic.
For those interested, Glossier branched out with Glossier Play, a range of more vibrant and glittery make-up musthaves that I might give a try – the Vinylic Lip is calling my name! As mentioned, they also already do a skincare range that I see friends and fellow bloggers raving about. Yet, given how sensitive my skin is and having spent years of trial and error finding a skincare routine that works for me, I think I'll have to give that a miss. That being said, Glossier's make-up products are undoubtedly a new staple in my everyday routine.
SHOP THE GLOSSIER PRODUCTS FEATURED IN THIS POST: