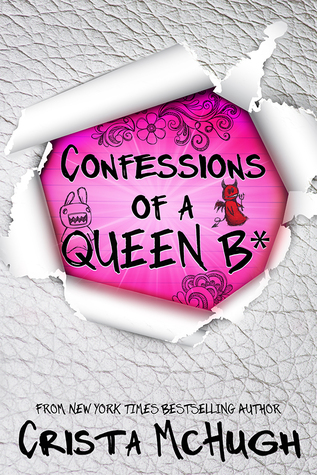 Thank you to the wonderful team at NetGalley and at CrushStar Multimedia LLC for granting me with an early copy of this book in exchange for a review.
Alexis Wyndham is the other type of Queen B—the Queen Bitch.
After years of being the subject of ridicule, she revels in her ability to make the in-crowd cower via the exposés on her blog, The Eastline Spy. Now that she's carved out her place in the high school hierarchy, she uses her position to help the unpopular kids walking the hallways.
Saving a freshman from bullies? Check.Swapping insults with the head cheerleader? Check. Falling for the star quarterback? So not a part of her plan.
But when Brett offers to help her solve the mystery of who's posting X-rated videos from the girls' locker room, she'll have to swallow her pride and learn to see past the high school stereotypes she's never questioned—until now.
REVIEW
First of all, please don't write Confessions of a Queen B* off purely due to its title! Truthfully, I did the same BUT then I read the synopsis and decided that this may well be a book that I would enjoy. Ten pages into Confessions of a Queen B* and I was in love.
Fun and refreshing from start to finish, I could not put this book down. It had me hooked with its laugh out loud, witty humour and its bold characters. Add in a dash of handsome, budding romance in the form of Brett Penderson and you've got yourself a perfect book!
I started this book on the 29th of May and was done within two days, I was that engrossed in the world of Alexis Wyndham. I admire her confidence greatly and the way that she doesn't let anyone or anything force her into changing her opinion.
She's definitely headstrong and gutsy and yes, while she may be the biggest bitch in school, she has a heart and is a bookworm – one of her qualities that I can actually relate to! Alexis exposes the wrongdoings of her fellow peers on her blog and boy, do I wish this blog was real. Blog and bitch infamy aside, Alexis is a character that you can definitely root for.
Speaking of root for, let's talk about Alexis' love interest in the novel. Brett Penderson. I was not just shipping, I was yachting these two since they got paired up together for health class. Might I add that this makes a welcome change to the hundreds upon thousands of stories where the swoon-inducing jock falls in love with the Plain Jane.
I loved reading about these two and the development of their unlikely friendship as they bonded over their mutual 'parentage' of their robot health class baby. While Brett busies himself with his jock duties and attempting to worm his way into Alexis' seemingly cold, bitchy heart, he gains the reader's affections in the process. (Yep. He's definitely up there on the fictional crushes list. *sigh*)
There's just something so exhilarating about how new and fresh this plot feels. The element of openness in Confessions of a Queen B* is something you rarely find in a lot of YA fiction. Nothing is too embarrassing or taboo and you'll find that there is always someone you can talk to even if it turns out to be the last person you'd think. For example, Alexis consulting her cheat of father for relationship advice which, while crude, turns about to be somewhat useful.
Just one little complaint – CLIFFHANGER!!! Gosh darn it! Whatever happened to the stories where it all ends happily ever after? Oh well, it's lucky that I absolutely adored Confessions of a Queen B* so much that I think I can handle the wait for a sequel. Even though I would like that sequel now and in my hands. Please and thank you, Crista McHugh? No? Pretty please? Fine, but I am seriously on the edge of my seat waiting for book two.
Confessions of a Queen B* doesn't get published until July 28th but I strongly urge all my bookworm friends to either pre-order a copy via the US Amazon or pick one up when the publication date looms. It'll make for perfect summer reading!
RATING
★★★★