So, it's been a while… A detailed explanation for my mysterious vanishing will be provided in another post, but the short story for my disappearance is that for the past few months I have been struggling greatly with major depressive disorder and anxiety along with other health and life issues.
I haven't been in an entirely positive mindset which has made it extremely difficult to concentrate on all the things I once enjoyed; like reading and reviewing! In a desperate attempt to find some semblance of the old me in this chaotic and deeply distressing time, I thought I'd pick up something up that I hadn't read by a personal favourite author of mine that I have yet to discuss on the blog with you. Easing myself back into the world of books and writing, I chose to read Haruki Murakami's short story, Birthday Girl.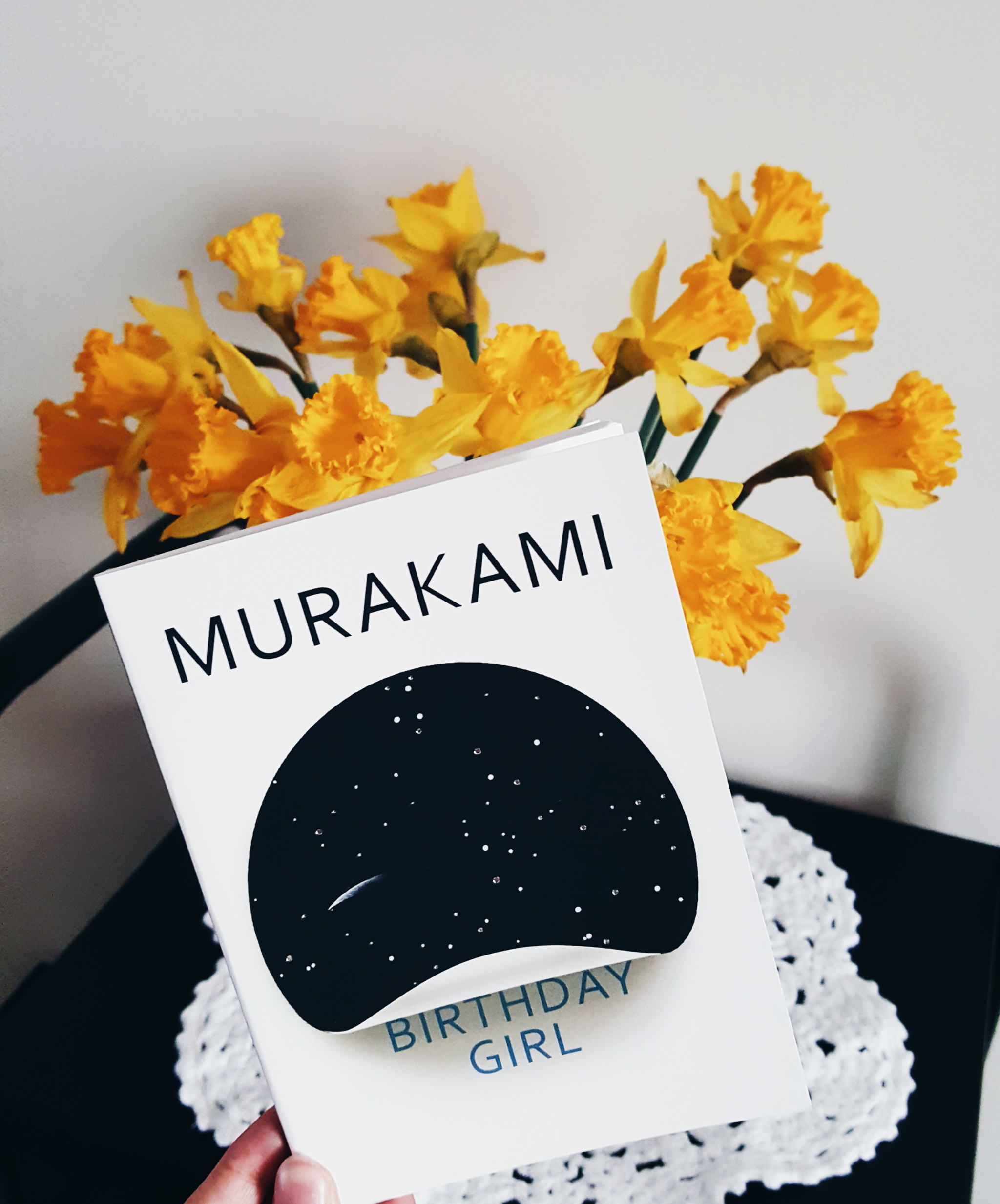 She waited on tables as usual that day, her twentieth birthday. She always worked Fridays, but if things had gone according to plan on that particular Friday, she would have had the night off. 
One rainy Tokyo night, a waitress's uneventful twentieth birthday takes a strange and fateful turn when she's asked to deliver dinner to the restaurant's reclusive owner.
'HAPPY BIRTHDAY,' HE SAID. 'MAY YOU LIVE A RICH AND FRUITFUL LIFE, AND MAY THERE BE NOTHING TO CAST DARK SHADOWS ON IT.'
First published in 2002 originally in the Japanese language, Vintage Books – an imprint of Penguin – released Haruki Murakami's short tale Birthday Girl this month to celebrate the Japanese author's own 70th birthday.
I am a staunch Murakami fan, devouring his novels within days – reviews of which I am yet to share with you, but will do someday. So when Amazon recommended Birthday Girl to me, I didn't hesitate to add it to my shopping basket. I'll be honest, I thought I was receiving a full Murakami masterpiece in the post so I was a bit baffled when this tiny 11 by 15 centimetre book was shoved through my mailbox. But whatever, it's Murakami so of course, I'm reading it!
The plot line is rather basic, but Murakami's signature magic is present in every line. Taken at surface level, it can easily be dismissed as a bit of simplistic and forgettable storyline. However, if you take some time to really ponder Murakami's words, you'll find the true depth of the story.
Without giving too much away because it's a very brief tale, but Birthday Girl was, for me, an oddly perfect way to get back into literature. It's a tiny taster, a little snippet of Murakami's talent that managed to distract my mind from the upsetting and sometimes dark thoughts and moods that have been plaguing me for the past few months. It allowed me to think a lot about the passing of time. How, in two months, I will turn 21 which basically means I'm a senior citizen (right?), all the things that means to me and the challenges that turning another year older brings.
I started to question what my birthday wish would be which led to a whole stream of fantastical scenarios in my head. Due to the fact it's a short story, it lacks perhaps the wild surrealistic nature of Murakami's lengthier ventures, but for me, it was still an enjoyable piece of fiction that allows for a moment of self-reflection and deep thought afterwards.
Murakami deliberately keeps the fine details of Birthday Girl vague, effectively leaving us in the dark and craving more. The true testament of a great writer. Now, onto my next read…
RATING
★★★