After finally recovering from all the travelling to London (look out for those blog posts soon!) I have finally caught up with the finale of FOX's Wayward Pines, a show based on the books by Blake Crouch. Books that I will definitely be picking up soon to ease my intense Wayward withdrawal.
If you haven't been watching the ten episode series event spectacular that has been Wayward Pines then I strongly urge you binge watch the hell out of it before reading this post because there will be spoilers.
The show follows one of Seattle's best Secret Service agents, Ethan Burke (played by Matt Dillon), on the search of two federal agents who have gone missing in Wayward Pines, Idaho. One of the missing agents is Ethan's former partner, Kate (aka the talented Carla Gugino), with whom he had a relationship that almost destroyed his marriage. After Ethan is involved in a car accident upon his arrival in the seemingly perfect town, he wakes up in the hospital without his wallet, ID or money, and he cannot find a working phone to contact anyone at home. When Ethan's wife learns of his disappearance, she and their teenage son begin a search that leads to more questions.
Wayward Pines has been an exhilarating ride from the start. There's been so many shocks and twists, that I hadn't the foggiest what to expect out of the finale other than the fact that we would finally get to see the Abbies in more action.
Aptly titled 'Cycle', the last EVER episode (Please, FOX, make more!) was ridiculously intense as all the citizens team with Kate and her insurgent friends to fight against the Abbies in a thrilling race for survival. It's safe to say that no-one's trying to get past the fence anymore now that they know the truth. That humanity has been destroyed and all that is left is their quaint little town in Idaho…and the flesh eating Abbies that roam the empty Earth.
In the finale we see David Pilcher struggling to come to terms with the rebellion from the townspeople and the fact that the truth is out there. Seeing this as a sign that his experiment featuring the second batch of humans has failed, Pilcher shuts off all the power to the town leaving the citizens of Wayward Pines open to attacks from the Abbies.
Pilcher was a character that I wasn't sure how to feel about. On one hand, I symapthised with him. He has saved humanity, even if it is a small fraction and he has created the idyllic Wayward Pines. However, his god-complex was what got the best of him. Pilcher's need for control ultimately leads to his unfortunate demise. It was extremely sad that Pam, a character I have grown to love as the series has progressed, had to be the one to put a stop to her ruthless brother.
What I loved most about this episode was that sisters were a hundred percent doing it for themselves. Theresa and Kate are my top two favourite characters of the entire show and despite Kate and Ethan's past, I really liked watching these two strong females come to a mutual understanding – if not, a friendship – together.
Theresa's curiosity is what essentially saves the town. After Pam gives her a key to that mysterious abandoned lot, Theresa discovers a bunker complete with videos that confirm what Ethan had told her in a previous episode. They are thousands of years in the future and Wayward Pines is the only thing left of civilisation. It has been amazing to watch Theresa develop as a character and seeing the shared determination between her and Ethan to protect not only one another but Ben. Highlight of the episode was watching Theresa slap the annoying school teacher and resident troublemaker, Megan.
Kate has been a strong character from the get-go. She had to adjust to life in the Pines and we know from those flashbacks we saw of her and Pilcher it wasn't easy. Anyone who has watched the finale knows how heartbreaking it was for Kate. Yes, she was incredibly badass throughout the entire episode and when she was killing those Abbies – hot damn! (see right)
But let's talk about the man who has been by her side since we were first introduced to Kate. Harold has been her support system from the moment she arrived in Wayward Pines and despite the circumstances I think they came to love each other. Watching those asshole teens of the First Generation kill Harold just tore me up inside and what makes it even worse is that jerk – who honestly looked way too old to be going to Wayward Pines' high school – didn't get his just desserts!!
It was an utterly phenomenal conclusion to an utterly phenomenal show. It was far more emotional than I thought. We see Ethan make a sacrifice in order to save the rest of the citizens and I completely bawled my eyes out. Ethan has been the hero since the beginning and regardless of some of the bad decisions he has made in the run up to the finale, he was the hero until the end. I will miss the Burke's family dynamic so much. Even if I didn't care for Ben (anyone else feel he was a wooden actor?) and his whole story-line with Amy, the Burkes will always have a special place in my heart.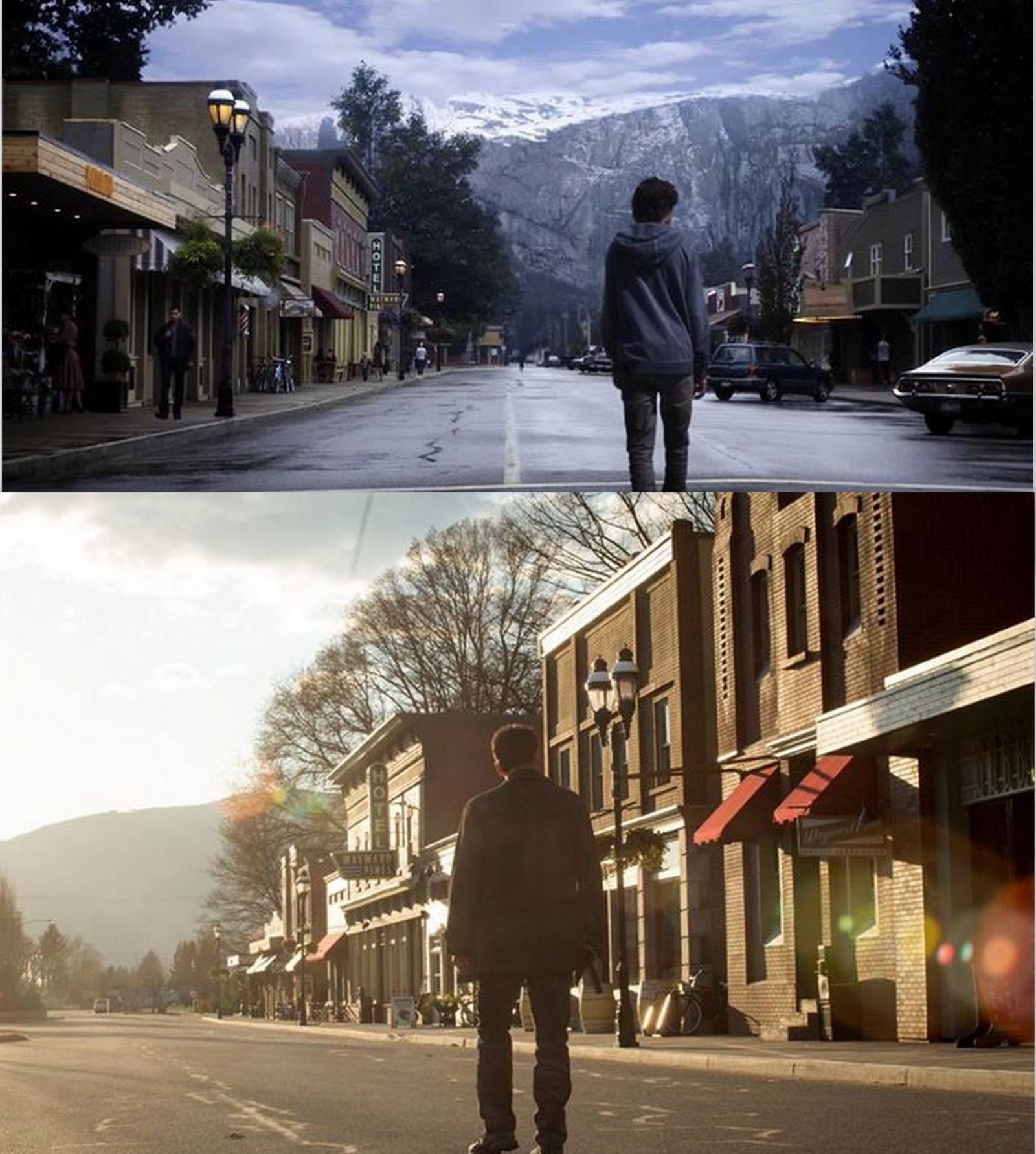 The finale of Wayward Pines has left the doors open for a second series and sets up a new journey for Ben that could possibly be explored if FOX ever decide to head back to the Pines. The end scene very much mirrors the scene where Ethan, his father, wakes up. Ben has woken up three years later in Wayward Pines' hospital to find that the First Generation of assholes has restrained all the adults in the cyrogenic chambers. It neatly alludes that should Wayward Pines have a T.V. future then you can bet that Ben will be taking on his father's role in protecting the town.
Alas, we are still left with so many questions. How did the first generation manage to seize control from Kate, Pam and other adults? Because I know Kate Hewson wouldn't have gone down without a fight. Will Ben lead a resistance much like his father, or will he fall in line with the rest of his classmates?
When asked how the first generation took over the town, showrunner Chad Hodge told The Hollywood Reporter, "That is for you to imagine. It's sort of a choose-your-own-adventure. There are many ways for it to have happened. I have my own ideas. The important thing is that the First Generation somehow put all of the adults back into stasis and took over the town."
"And now Ben wakes up, just as his father did, in this town with a nurse standing above him and, in this case, it's his girlfriend who is now a nurse at the hospital. He encounters Wayward Pines the way his father did, implying that things change but they stay the same. The violence obviously endured, and is this the way this town should be run? Probably not," he added.
Executive producer M. Night Shyamalan has teased that there is an "idea" for season 2.
Deadline questioned him on whether season 2 was on the cards, to which Shyamalan explained, "I'm actually not being diplomatic, I mean, I'm being somewhat diplomatic, but I'm genuinely being as open as I can…I knew where I wanted to go. I knew I wanted the fences to come down. I knew where we were heading for the finale and so we could architecture the 10-episodes in that manner."
"So, I am happy to walk away, especially with such a wonderful reaction and all that stuff. But honestly, Blake [Blake Crouch]and I do have an idea," he teased hinting at the possibility of season 2, and added, "We have an idea we've discussed. That's all I'll say," the executive producer added.
I'd really like to see a season two of Wayward Pines. Primarily because I adored this entire show. For me, there were no flaws even with the irritating Ben and Amy subplot. From the opening credits to the script and cinematography, I adored everything about Wayward Pines. Its characters were the epicenter that truly made Wayward Pines a second home and a nice little fictional world to indulge in. For me, it's probably the best show this year which is why it's the first thing to make it onto my 'Things I loved in 2015′ meme for the blog.
So for now, even though it pains me to do so, let's bid goodbye to the action packed rollercoaster that has been FOX's event series, Wayward Pines. You don't understand how much I need a second season.
Wayward Pines will be released on DVD August 17th. You can pre-order it here.