I had scheduled this post for today (14/11/2015) but I wanted to include a little update in light of the horrific attacks that took place last night. My thoughts and prayers are with everyone in Paris. What has happened is downright disgusting and my heart goes out to all of you. Also, I want to acknowledge the racist tweets being sent to people of the Muslim faith which is beyond wrong. Please do not condemn an entire following based on the actions of an extremist group. You can read my Twitter for my further words.
Now, onto Crimson Peak. I saw Guillermo Del Toro's magnificent movie last month and I have to say that it was SO INTENSE. Obviously as it's a Guillermo Del Toro film it meant that everything about it was so beautiful. From the costumes, to the set, to the amazing plot. I dragged my friend along with me to see it and we both cowered in fear whenever a ghost appeared on the screen and we both gasped out loud with every twist and turn the movie took.
My adoration for the movie naturally meant that I had to pick up the official novelization of Crimson Peak by the talented Nancy Holder, whose Teen Wolf novel 'On Fire' I have read.
When her heart is stolen by a seductive stranger, a young woman is swept away to a house atop a mountain of blood-red clay: a place filled with secrets that will haunt her forever.
Between desire and darkness, between mystery and madness, lies the truth behind Crimson Peak.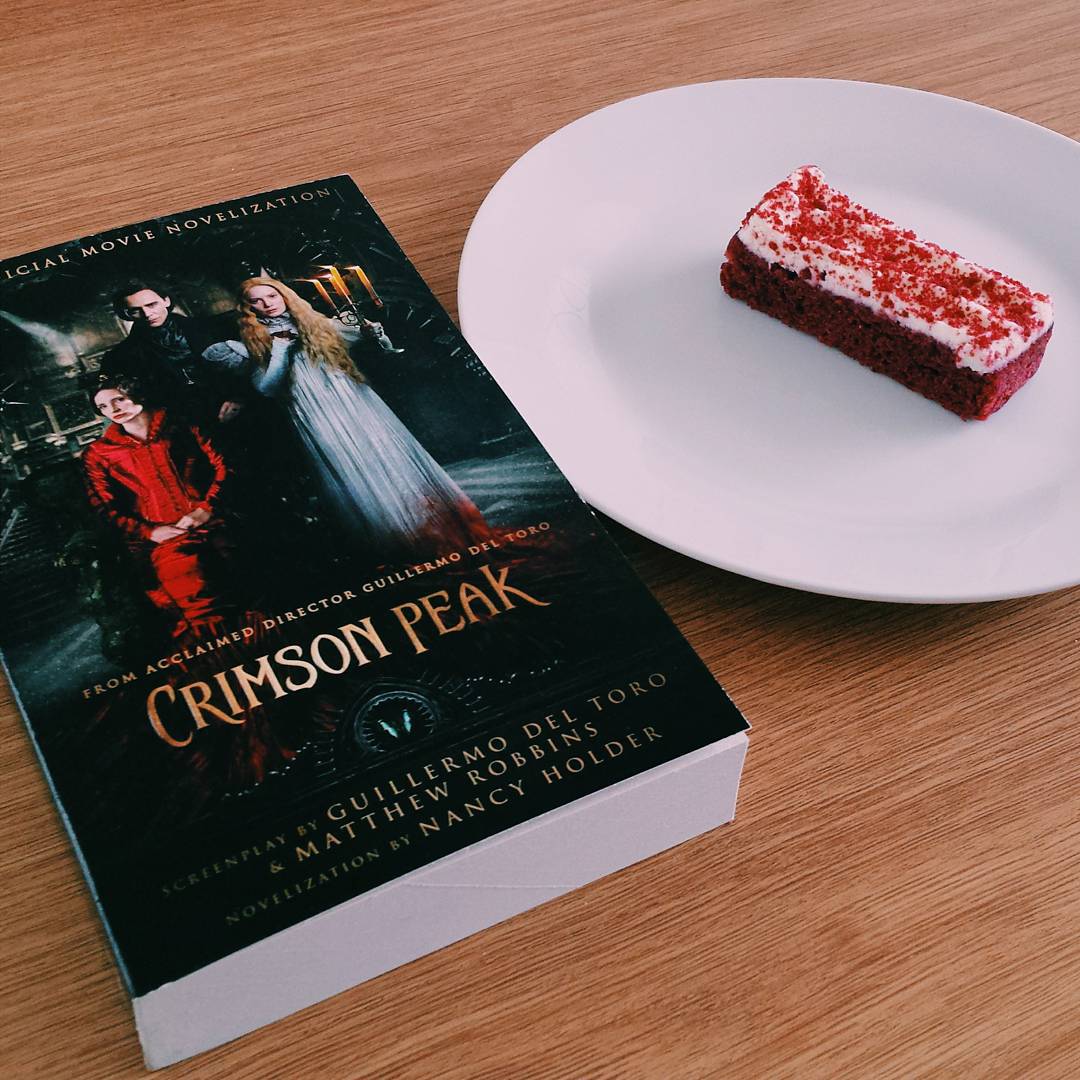 "THE THINGS WE DO FOR A LOVE LIKE THIS ARE UGLY, MAD, FULL OF SWEAT AND REGRET. THIS LOVE BURNS YOU AND MAIMS YOU AND TWISTS YOU INSIDE OUT. IT IS A MONSTROUS LOVE AND IT MAKES MONSTERS OF US ALL."
As someone who is obsessed with the movie, the novelization was the icing on top of the cake. Nancy Holder's writing perfectly captures the Gothic Romance genre and her lushly written descriptions help the reader to fully immerse themselves in the eerie setting of this story.
The added scenes were a great bonus that a part of me wishes had been in the movie. I would have loved to see Thomas and Edith's wedding as it was written in the book with a salty Alan McMichael looking on at the happy newlyweds probably desperate to pull a Geraldine Granger. (A reference that I am aware will be lost on perhaps most of my non-UK followers. In case you haven't seen the hilarious 'It Should Have Been Me' scene from The Vicar of Dibley here it is. Now, imagine it with Alan McMichael furious at Sharpe for marrying Edith and you're on to one heck of a deleted scene!).
I don't think I can explain truly in words how amazing Holder's writing in this novelization is. Not only did she include some of the haunting quotes from the movie, but there were also some beautiful descriptions that really stood out in this novel and helped to emulate the atmosphere and emotion of the characters in words rather than in motion. A lot of the pieces of her writing that I enjoyed were when witnessing the inner conflict Thomas was battling with. Choosing to either go along with his sister or save Edith. Despite being played by the charming Tom Hiddleston, even the movie shows you that Thomas isn't a character that you should wholly love. After all, he was an equal player in the murderous acts. The book managed to put his struggle between good and evil into words and in such a stunning way. "Thomas had tried to save her. He had wanted to change. But he was trapped in a mad waltz with this house, and this woman, and he couldn't stop dancing until the music stopped. He was cursed, and the curse had not yet been broken." and "He smiled at her, really smiled; she remembered the glow of flame in his eyes when they danced the Chopin waltz, the radiance of firelight on his face in their humble honeymoon sanctuary in the depot. Need had driven him into the darkness, but love had brought him into the light. It had redeemed him" are two of my favourite parts.
Even though I had seen the film and I knew the plot, the scares in the novel still got me. It's not too hard to get caught up the beautiful and bloody world of Crimson Peak and it was very hard to put this book down! A surprising element of this novel was the implication that Allerdale Hall itself was alive. Playing into the gothic horror tropes, there was a viewpoint in the novel where something is watching Thomas, Edith, Lucille and all the ghosts that wander the dilapidated house. It is suggested that the Hall itself has been influencing the Sharpe family since its construction way back when. It is rooting for the nightgown knife fight between Lucille and Edith during the climax of the story. It is an evil force and adds to sinister and eerie tone of Crimson Peak.

I felt everything about it was spot on. Although, I wasn't a fan of the 'Poor Baby Thomas' undertone that was present in some of the novel. (He helped Lucille murder those women. His realisation of those wrongdoings does not absolve him of his involvement. No matter how in love with Edith he is.) However, the book did extinguish any sympathy I had for Lucille when it went to depth about her abusive, manipulative behaviour she exerted onto him when they were children. Lucille is still one crazy, messed up character that I did enjoy watching on screen though.
Illustration of Allderale Hall inside the novel
I would definitely recommend picking up the novelization after you've seen the movie. The book does complement the movie, but there's something about experiencing the twists and turns first hand on screen that give the Crimson Peak story that oomph factor. The movie is power-packed and will have you on edge while the book serves as the perfect companion in allowing you to delve into these characters a little more with some background stories and additional detail.
One final thing that must be noted about the novelization is just how gorgeously decorated it is. Each 'part' of the book had an illustration that mimics the corridor arches of Allerdale House and there was also a sketch of the Sharpe's sinking home. I wasn't able to find who did the illustrations but I just wanted to add how eye-catching and pretty these were.
RATING
★★★★★