When I saw that two of my favourite actors Natalie Dormer and David Oakes would be taking to the West End to perform together I just knew I had to buy tickets regardless of what they'd be starring in because, well, they're two of the most exceptional actors around and as a big period drama fan, seeing them together was a must. That being said, I was not ready for just how spectacular Venus in Fur would be.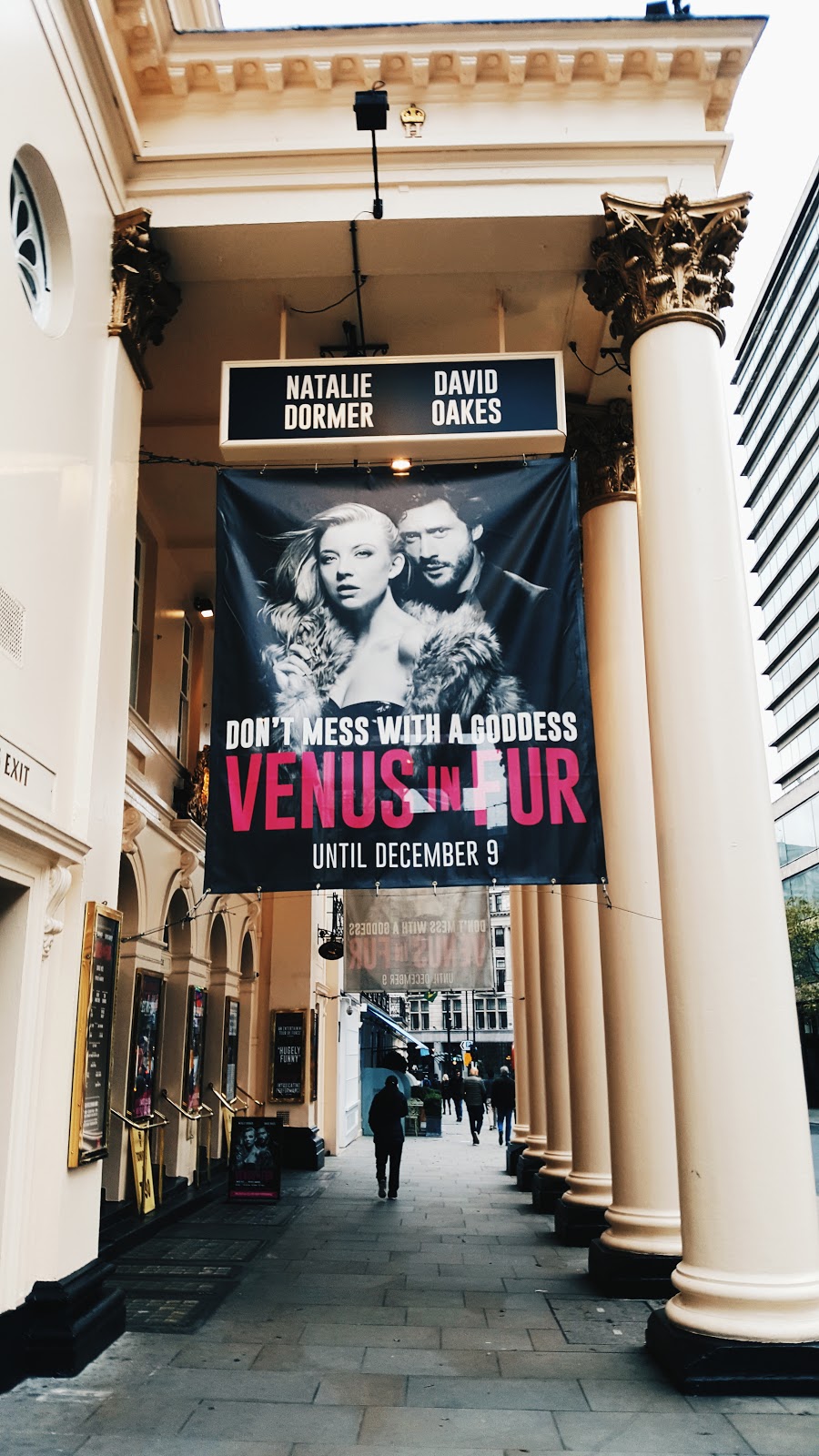 David Ives' play, Venus in Fur, centres around a young playwright, Thomas (Oakes), who has written an adaptation of the 1870 novel Venus in Furs by Leopold von Sacher-Masoch (after whom the term "mascohism" was coined) which tells the story of an obsessive adulterous relationship between a man and the mistress to whom he becomes enslaved.
At the end of a long day in which all of the actresses Thomas has auditioned fail to impress him, in walks, Vanda (Dormer), very late and seemingly clueless, but she convinces him to give her a chance. As they perform scenes from Thomas' play, the lines between writer, actor, director, and character begin to blur.
I thought it was truly exceptional and I've been re-reading my copy of the play ever since and was giddy with excitement to see Dormer and Oakes take on these characters. The play, which consists of one extended scene, has so many poignant moments that delve into feminism and the idea of relationships between men and women while subtly navigating the S&M theme of its source material.
Dormer is captivating in the role of Vanda, effortlessly switching between a brash Brooklyn accent to smooth and refined English in the blink of an eye. She also humorously dabbles in German at one point! In fact, for the most of part of the play, all my attention was on Dormer. She is so utterly compelling in the role that you don't want to take your eyes off her, not even for a second, for fear you'll miss something. She truly gives the performance of a lifetime as Vanda. We're quite used to seeing Dormer in regal roles, so I appreciated how this play gave her the opportunity to showcase her rather spectacular talent for comedic timing whilst simultaneously giving us the scarily powerful Dormer we all love when Vanda takes charge at the end. If she doesn't win all the awards for this part then I'll be severely disappointed.
Oakes, who I have long adored since The White Queen, is given a less meatier part. Yet, he still gives an excellent performance and has clear chemistry with Dormer. The pair are sensational, bringing to life Ives' cat-and-mouse dialogue between Vanda and Thomas with such energy, keeping the audience on their toes with a riveting blend of drama and dark humour.
Patrick Marber's production is truly sublime. It cleverly toys with the lighting and the sudden doom  of the thunder sound effect contributes to its foreboding atmosphere. Much has been said about the timing of the play's arrival on the West End a few weeks after the Weinstein scandal and with revelations continuing to come to light. While it is unfortunate and one can't help but be reminded that this is a play written by a male and directed by a male, you can't help but buy into Dormer's smart and witty performance. After that ending where Vanda gives Thomas his just desserts, I left the theatre feeling empowered and like I could take on the world. Actually, the intense climax of Venus in Fur which is gorgeously lit with a sinister red and paired with eerie chanting, is worth the ticket alone. It is one of the most outstanding productions of the year.
Venus in Fur continues its limited season at Theatre Royal Haymarket until December 9th.